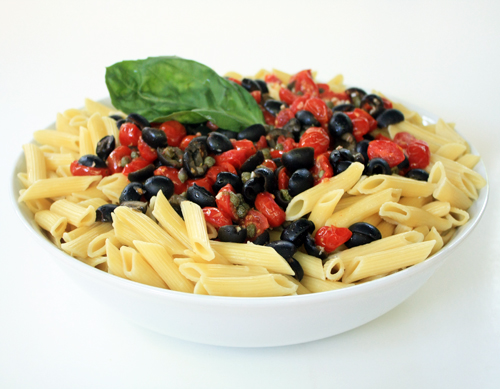 In trying to create a crowd-pleasing pasta that serves many and could work as a warm dish and cold pasta salad, I came up with this recipe, Roasted Puttanesca Pasta. Puttanesca sauce is typically a zesty blend of tomatoes, olives, capers, anchovies, garlic, and spices in an olive oil base. However, much like the Caesar Salad, which most prepare with anchovies making it an Aviator's Salad (I'll include more history soon when I upload my video recipe: Caesar Salad in a Parmesan Cheese Bowl), puttanesca sauce without anchovies is widely considered the Neapolitan version of this classic dish. Although I'm a big fan of the salty little fish, many people are not, so this recipe is sans anchovies.
Another prevailing piece of trivia about "puttanesca" is that its name somehow suggests that it is the "sauce of the whore," with one thought being that this "whatever is in the pantry" sauce was derived from "street smart" creativity. So, I decided to look a bit further into the name and found a couple of cool blog posts. The first post by Penn Live states, "This (sauce) is also known as Spaghetti alla Buona Donna, or 'Good Woman's Spaghetti', also known as, 'Women of the Night'. As for 'Buona Donna', that is up to personal interpretation."
But my favorite discussion about the origins of puttanesca can be found on the blog Do Bianchi, where the author gives dated accounts of where the sauce appeared in print as a response to one of his readers or a fellow blogger debating the whole "sauce of the whores" roots. To me, it reads as a polite dissertation where one guy is sticking up for whores and the other guy is delicately proving a point without offending the whores. Quite fascinating.
Anyway, I made this hooker sauce for a first grade parents' pot luck and for my family and all loved it!
4 tablespoons pure olive oil
2 cloves garlic, minced
1 (10.5 oz.) container red grape tomatoes
1 (6 oz.) can large pitted black olives (drained)
3 tablespoons capers (non-pariel)
1 teaspoon coarse salt
1 (lb.) penne pasta
Preheat oven to 350 degrees. Pour olive oil on to a 10×15-inch baking sheet and scatter garlic over oil. Cut tomatoes and olives in half lengthwise. Add tomatoes, olives, and capers to garlic oil and toss to coat. Roast for 10 minutes until a fabulous smell permeates the air; remove from heat.
Meanwhile, fill a large pot 3/4 full with waters and add a teaspoon of salt and a tablespoon of olive oil. Bring to a boil over medium-high heat and stir in pasta. Cook according to manufacturer's instructions on the box, usually 10 – 12 minutes, until pasta is tender. Drain pasta in a colander.
Transfer pasta in a large serving bowl and add roasted tomatoes and all. Toss to coat and serve immediately. Or, bring to room temperature, cover with plastic and refrigerate for a cold pasta salad. Season with salt and pepper if necessary to adjust the taste to your liking.
Serves 4 to 6 as a dinner entrée or about 16 to 18 servings for a potluck