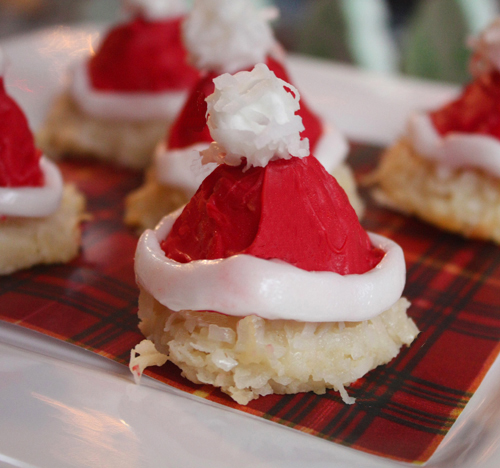 How cute are these Santa Hat Christmas cookies!!! I made them for a party recently, and my guests loved them! The macaroon recipe could not be easier. It takes a bit of time to apply the red chocolate hat, but the festive results are totally worth it!
1 (14 oz.) can Eagles Brand Sweetened Condensed Milk
1 (14 oz.) bag sweetened, flaked coconut (reserve 1/4 cup for hat)
1/4 cup all-purpose flour
Red Santa Hat Ingredients
1 cup Wilton red Candy Melts
1/2 cup powdered sugar
1 – 2 teaspoons water
1/4 cup coconut
Mini marshmallows
White fondant
Preheat oven to 350F (175C).  Butter a baking sheet and coat heavily with flour. Toss together coconut, sweetened condensed milk, and flour until thoroughly combined.
Drop 2 teaspoons per cookie 1 inch apart on prepared baking sheet and use clean hands to form mixture into a Santa Hat cone shape. Bake for 10-15 minutes until edges are golden brown.  Remove cookies from oven and cool.
Melt red Candy Melts in a microwave-safe bowl in the microwave as per instructions on the bag. Spread red melted chocolate on top of cooled macaroons using a butter knife to create the Santa Hat.  Allow chocolate to set.
Mix together powdered sugar and water and roll a marshmallow in it, then roll in coconut. It may be necessary to add more water to the powdered sugar until you have the right consistency for the coconut to stay on the marshmallow. Stick marshmallow on top of macaroons. Roll out white fondant and cut into thin strips. Moisten the back of each strip and apply it to the hat as trim.
Makes about 20 macaroons