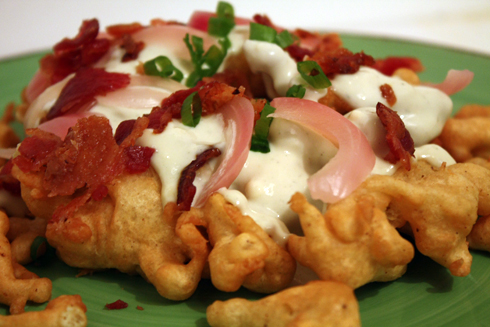 I've been playing around with carnival food of late, turning deep-fried delights into sophisticated street food. First up is this Savory Funnel Cake with Bacon and Blue Cheese Sauce along with pickled red onions and green scallions on top! I passed these around the neighborhood and got a resounding, "Holy cow, is that good!" Total winning recipe for an upscale backyard carnival bash!
Savory Funnel Cake
2 cups all-purpose flour
1 teaspoon chile powder
1 tablespoon garlic powder
1-1/4 teaspoons baking powder
1 teaspoon salt
2 large eggs
1 teaspoon sugar
1-1/2 cups milk
Blue Cheese Sauce
1 quart heavy cream
6 oz. blue cheese, crumbled
Pickled Red Onions
1 medium red onion, cut into slivers
1 cup white wine vinegar
1 teaspoon salt
1 teaspoon sugar
Toppings
3 tablespoons finely chopped scallions
6 strips cooked bacon, coarsely chopped
Prepare the Blue Cheese Sauce and Pickled Red Onions first, so they are ready to go when your funnel cake is done!
To make the Blue Cheese Sauce: heat cream in medium pot until just boiling. Stir in blue cheese and reduce heat to low. Cook for 30 to 45 minutes, stirring occasionally, until sauce thickens. Remove from heat and transfer into a bowl.
To make Pickled Red Onions: place onions in a pot and cover with water. Bring to a boil and cook for 1 minute until blanched; drain in a colander. Add onions back into the pot and cover with cold water. Stir in vinegar, salt, and sugar. Bring mixture to a boil and remove from heat. When cool, transfer into a jar with a lid and store in the refrigerator for up to 1 week.
To make Savory Funnel Cake: add ingredients into a bowl and whisk to combine. Allow batter to rest for 10 minutes.
Fill a medium pot halfway with vegetable oil and heat on medium-high to @350 degrees. Use a thermometer in the oil if you like, or test a small bit of batter to see if it floats to the top and browns. I usually adjust the oil's heat throughout the cooking process.
Instead of a funnel, I use a use a plastic needle nose bottle a.k.a. squeeze bottle, but I cut off the nozzle, so I have a 1/4-inch opening.
Fill the bottle with 1/2 cup of batter. Carefully, hold the bottle about 10 inches over the oil, and squeeze the batter in a circular and zig-zag motion into the oil. Fry until golden brown on one side, and then use a kitchen spider (wok basket) or slotted spoon to turn the funnel cake over and fry other side. Remove from oil and drain on paper towels. Place funnel cake on a plate and top with blue cheese sauce, bacon, pickled red onions, and scallions. Serve immediately. Repeat process with remaining batter!.
Makes about 6 funnel cakes