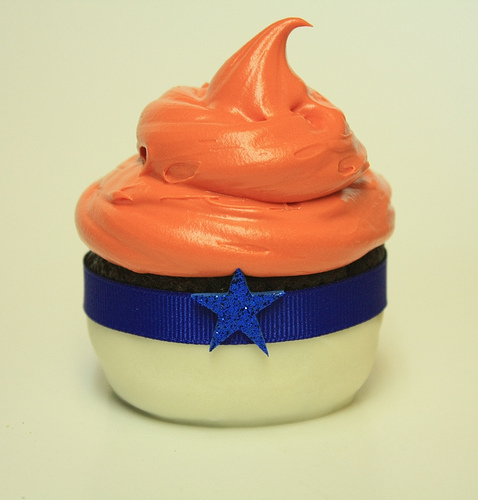 Go gorgeous on the gridiron with cupcakes that have been double-dipped in white chocolate, dollopped with icing, and accented in team colors.
Steps:
Bake a batch of cupcakes, cool, and remove the paper cup.
You'll need about 1/2 cup of white chocolate Candy Melt chips (available at Michaels or Wilton online) for each cupcake.
Melt Candy Melt chips in 1-cup batches in a small microwaveable bowl. Restock your chocolate as necessary throughout the decorating process.
Place a sheet of wax paper on your work surface. Dip the bottoms of the cupcakes in the melted white chocolate and place them on the wax paper to set.
When chocolate has hardened, pick up the cupcakes and gently break off any excess from the bottom. Re-melt the chocolate it necessary and dip the cupcakes again. If the chocolate isn't as smooth as you would like, use a small offset spatula or butter knife to smooth the surface. Or you can give them another dip! Allow chocolate to harden before decorating.
Ice the top of the cupcakes with frosting tinted in one of your team colors using food coloring. I used a pastry bag fitted with a wide rosette tip to top the cupcake in the photo.
Wrap a team color ribbon around the cupcake along the top edge of the chocolate and tape the back to keep it closed. Add a fun team color accent on the front of the ribbon, like the blue star sticker I used on the pictured cupcake. Or use a simple football sticker to finish it off!
(I originally designed this cupcake as a Contributing Editor and Lifestyle Party Expert for Celebrations.com.)