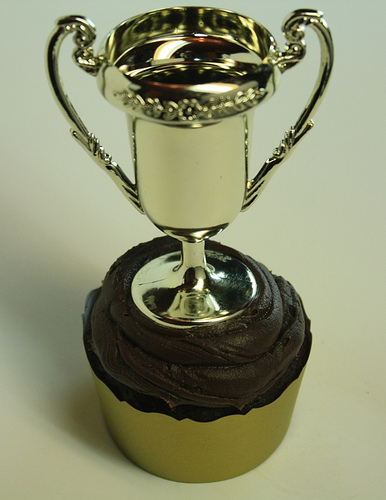 Win big by topping chocolate cupcakes with trophies. These are great for a Super Bowl party as well as a celebration to end a local team's championship sport season.
Steps:
Bake a batch of chocolate cupcakes and ice them with chocolate frosting.
Make a pattern for the cupcake wrap by wrapping white paper (or cardstock) around the cupcake and trimming it to fit.
Place the cupcake wrap pattern on gold metallic cardstock and cut it out. I also used a decorative-edged scissor along the top of the wrap to give it a little more style.
Wrap the cupcake in the gold wrap and tape the back to keep it closed.
Place a small plastic trophy on top. You should be able to find trophies like the one I used in the party favor or sport section of a party store.
(I originally designed this cupcake as a Contributing Editor and Lifestyle Party Expert for Celebrations.com.)