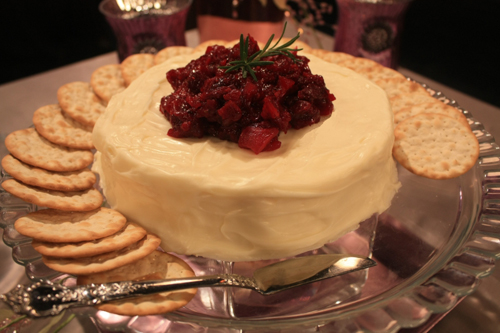 Without fail, this dish garners the most rave reviews and recipe requests from my friends! There's something about the offbeat combination of white chocolate covering a wheel of Brie that sparks guests' imaginations and the bright cranberry chutney topping makes it a dynamic and delicious holiday party appetizer.
2 cups fresh whole cranberries
3 tablespoons diced red onion
1 tablespoon finely chopped rosemary, plus rosemary sprigs for garnish
1/3 cup brown sugar
2 tablespoons white wine vinegar
1/4 cup golden raisins
1/8 teaspoon salt
1 (1lb.) wheel Brie
1/2 cup white chocolate chips
Crackers or sliced baguette
Place cranberries, onion, chopped rosemary, sugar, vinegar, raisins, and salt in a medium saucepan and stir to combine. Cook over low heat for 10 to 15 minutes until ingredients are very tender. Cool to room temperature before serving.
Cut off the white rind from the top and sides of the Brie and place on a serving platter. Melt white chocolate in the microwave in 10-second increments until it reaches a creamy consistency. Immediately spread a thin layer of white chocolate on top and sides of Brie. Top Brie with cranberry chutney and garnish with rosemary sprigs. Serve with crackers or sliced baguette.
Makes about 20 appetizer servings
Note: Fresh whole cranberries are easily found in the grocery store during the winter holiday season.  If cranberries are unavailable, check your local produce section for a substitution such as apples or pears.  Most any fruit will work with this recipe.