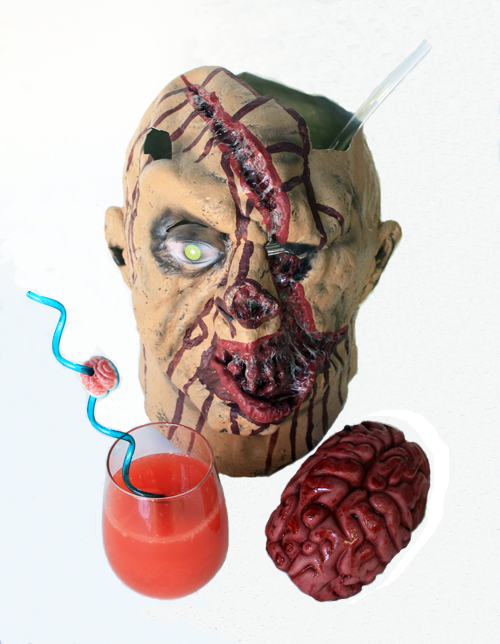 Serve zombie brain juice in a zombie head by using a latex mask over a glass container. Don't forget to place the zombie brain alongside his head and use mini gummy brains as accents on straws!  
1/2 cup Jamaican Dark Rum
1 cup Puerto Rican Light Rum
1/2 cup orange Curacao
3 oz. apricot brandy
1 cup fresh lemon juice
8 cups V-8 Splash "Tropical Blend" flavor or similar juice
3 oz. grenadine
Small ice block (freeze water in 1-cup plastic container)
Add ingredients into the zombie head container and serve with punch glasses and gummy brains straws on the side!
Zombie Head Container
Latex zombie mask (Slash Zombie Mask pictured is from Party City)
Glass cylinder jar or container (@18-cup)
Plastic brain
Mini gummy brains on straws
Punch glasses
Slide zombie mask over container and cut a hole in the top of the mask. Set up the punch station with the zombie head, plastic brain on the side. Slide mini gummy brains on straws and place next to zombie head.