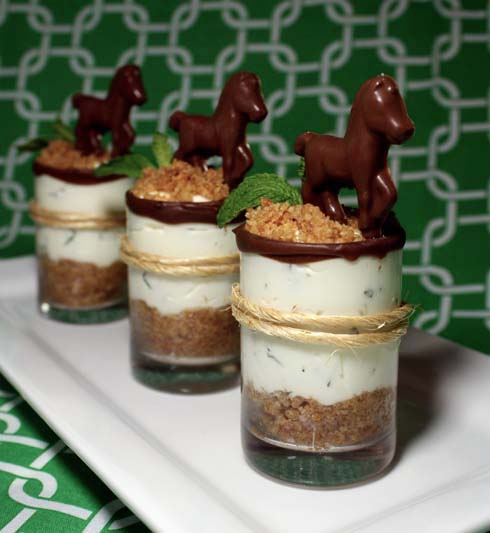 Yum! Here's a sweet treat for a Kentucky Derby Party ~ See the "Sophisticated Stable" fete I designed for 14 Hands Wine.
8 (3 oz.) shot glasses
For chocolate horse:
Chocolate melting chips
Plastic horse candy mold (to make @ 1-1/2 inch horses)
Wooden toothpicks
For crust:
2 cups graham cracker crumbs
1/2 cup butter, melted
1/4 cup granulated sugar
For cheesecake filling:
1 (8 oz.) package cream cheese, softened
1 cup heavy cream
1 tablespoon bourbon
5 tablespoons granulated sugar
2 tablespoons mince fresh mint, plus mint sprigs for garnish
Place chocolate melting chips in a microwave-safe measuring cup or ramekin. Heat chocolate on "defrost setting" in 20 second increments until chocolate is melted; stir until smooth. (Refer to manufacturers' package for instructions as well.) Spoon chocolate into horse molds and allow to harden. (I usually speed up the process by putting the mold in the freezer for 5 minutes.) Unmold chocolate horses and attach a toothpick to the back of each horse using melted chocolate.
For chocolate shot glass rim, place melted chocolate on a small saucer and dip rim in chocolate.
Mix together graham cracker crumbs, butter, and sugar until combined. Spoon 2 tablespoon of graham cracker crust into each shot glass.
Whip cream cheese, heavy cream, bourbon, sugar, and minced mint together until blended. Spoon cheesecake cream into shot glasses on graham cracker crust and sprinkle graham cracker crumbs on top. Refrigerate until ready to serve. Insert toothpick on chocolate horse into cheesecake cream and garnish with a mint sprig for serving.
Makes about 8 cheesecake shots

{ 0 comments }