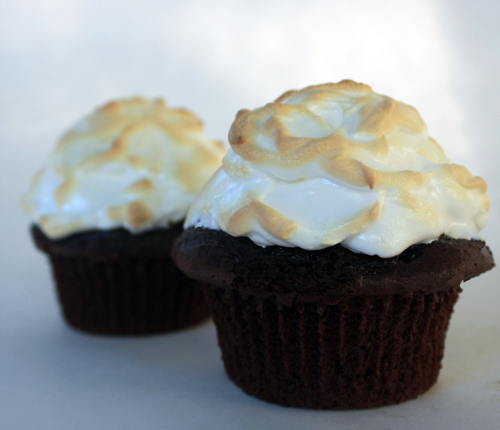 I tried to make Baked Alaska in high school to impress a boyfriend for his birthday. I busied myself with his affections and forgot about the dessert in the oven. Big mess! The moral of the story: A watched pot may never boil, but unwatched Baked Alaska will surely melt! This dessert, in its traditional form, is tough. The ice cream always seems to melt. In this recipe a small scoop of ice cream is nestled inside the cupcake protecting it from melting and oozing out the sides of the dessert during the high-heat meringue browning in the oven. I created this recipe for an Alaska Theme Party to Watch Sarah Palin's Alaska on TLC!
8 chocolate cupcakes (baked in foil cups for best results)
1 pint mint chocolate chip ice cream
4 egg whites
1/2 cup granulated sugar
Using a spoon, scoop out a ping-pong ball size of cake from the center of the cupcakes. (Make sure you don't scrape the bottom of the cupcake.) Fill the holes with mint chocolate chip ice cream. Line a baking sheet with foil and put the cupcakes on it; freeze for at least an hour.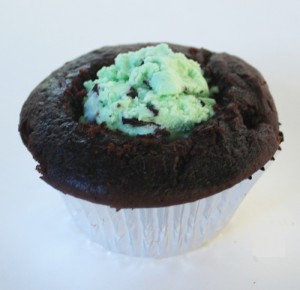 Preheat oven to 500F and center the rack in your oven. Whip egg whites on high speed in a dry, clean bowl until they start to stiffen. Gradually add sugar, while beating constantly, until the egg whites are very stiff and you can form peaks when you dip the beaters into them and pull away. (May seem obviously but many awesome cooks I've met have never made meringue.)
Remove cupcakes from freezer and dollop meringue on top of each cupcake making sure to seal around the edges of the ice cream holes, thus insulating the ice cream. Smooth and swirl the meringue as you apply it, as opposed to pointy tips, which burn easily in the oven. (Tip: Keep the foil baking cups on during this process as it helps keep the cupcake and ice cream cold. Then, remove the foil prior to baking the meringue.) Place the baking sheet with the cupcakes in the oven for 2 minutes until the meringue browns.
Remove the cupcakes from the oven and serve immediately! Guests can eat these fire and ice delectables with their hands in traditional cupcake style, but plated with a spoon if a great way to go as well!
Makes 8 cupcakes