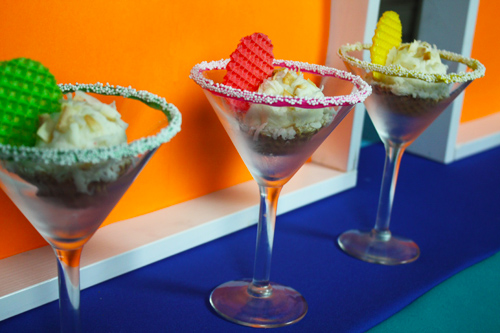 Coconut Colada Gelato Martinis are the perfect conclusion to a dinner party or  a frosty happy hour! Check them out on the party table in my article Adult Ice Cream Social featuring Ice Cream Cellars Wine and a Bright Bold Tabletop.
5 large egg yolks
3/4 cups granulated sugar
1 1/2 cups skim milk (2%)
1/4 cup coconut milk
1/4 cup Ice Cream Cellars French Vanilla Ice Cream Wine
1 tablespoon vanilla
1/4 cup sweetened flaked coconut
Shaved coconut
Waffle cone cups and colored waffle wafers
Whisk together yolks and sugar in a bowl until combined; set aside.
Scald skim milk in a heavy, medium saucepan. Gradually whisk hot milk into yolk mixture in slow streams to temper eggs. Whisk in coconut milk, wine, and vanilla. Return mixture to saucepan and reduce heat to low. Stir constantly until mixture thickens slightly, about 8 minutes, but do not let mixture boil. Strain into medium bowl, add sweetened flaked coconut, and refrigerate until chilled.
Pour chilled mixture into an ice cream maker and process according to manuacturer's instructions. Transfer into an airtight plastic container and freezer for 2 – 4 hours more to firm up gelato.
Place waffle cone cups into Martini glasses and scoop gelato into cups. Garnish with colorful wafer circles.
Makes about 2 1/2 cups