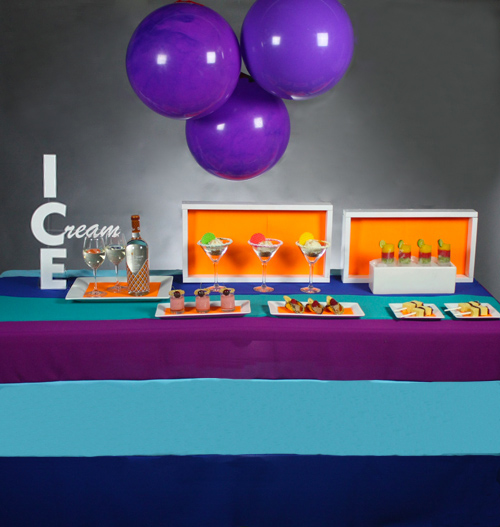 National Ice Cream Month is July! So, to celebrate I've partnered with Ice Cream Cellars and created this Adult Ice Cream Social party that features frosty recipes with their delicious Ice Cream Wine as an ingredient. Go with a bright and bold tabletop that shows off these frozen treats in style, such as this one I've designed with a trendy color-blocked striped cloth and a dramatic tabletop graphic. And, keep your ice cream cool as a polar cap with my tips for best results when serving these frozen desserts on a buffet.
Ice Cream Wine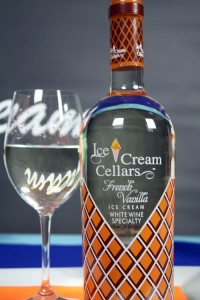 For me, the mere thought of Ice Cream Wine conjures thoughts of sipping on a summer afternoon while hanging out with friends. Ice Cream Cellars created this first of its kind confectionery wine based on the favorite nuances and notes already found in wine such as vanilla, espresso, chocolate, raspberry and much more! The blends are delicious with flavors like French Vanilla White Wine and Espresso Red Wine artfully crafted from French winemakers. These wine masterminds have also created Birthday Cake Wines with a Cheesecake flavored wine that will definitely be on my wine list for the holidays!
You can enjoy this wine with appetizers, main entrees, or as an accompaniment to dessert as I've done with the ice cream treats that are featured on the party table. I've also used the wine as an ingredient in each recipe below in celebration of National Ice Cream Month!
Summer Design Trends for a Hot Tabletop
From color-blocking to bold graphics, make your ice cream buffet table design as eye-catching as the colorful treats on top!
Color Block Tablecloth
Color blocking is a fashion design technique where solid bold colors are paired or grouped for a striking aesthetic as opposed to matching colors or tone-on-tone. While I like the whimsy of pairing up any shade with another, there is a little trick that you can use to help you out. Purchase a color wheel from an art or craft store. Find a color you like on the wheel, and the color directly across from it is the ideal color partner.
I made the tablecloth and chose to go with the colors royal blue, sky blue, plum, and teal since they are all "cool" colors, knowing that the food design would feature a brighter palette. The one rule of thumb I try and stay with when color blocking on a tabletop is to keep the types of fabric the same or similar for a more cohesive feel.
Bold Tabletop Graphics   
Given that I'm working with Ice Cream Cellars, I decided to spell it out in style on the table. Many party table displays you may see on other blogs use little paper signs on just about every food item displayed, and while this type of homemade branding is cute, I like the sense of discovery that a guest has when they survey beautifully presented food without being told every little detail about it. Plus, inquisitive minds spark conversation and break the "ice!"
I had the white acrylic letters that spell out "I C E cream" as a vertical  display manufactured by Weston Letters in North Hollywood, CA. I applied glue dots to the back of the letters and arranged them on an acrylic rod that was attached to a small acrylic easel to stand it up. The italicized word "ream" is one piece that I applied to a clear piece of plexi-glass so it juts out from the C spelling "Cream."
Artistic Display Elements
Modern art was my inspiration for the personality layer on the table. White rectangle plates and platters were right in theme with the artistic direction and perfect to showcase the ice cream creations. I made white boxes and placed them on-end so they framed certain food items. And, an orange "pop" color comes into play with paper used as the box backdrops and platter liners.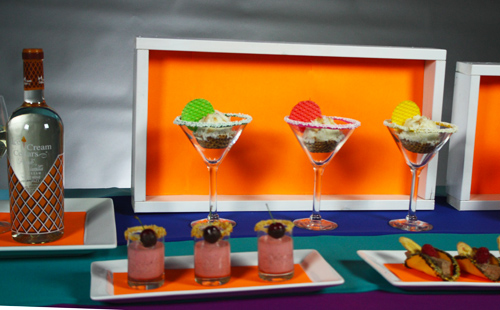 I hung purple bouncy balls from Target above the table to complete the cool color scheme from top to bottom and round out the overall design. Another option would be paper lanterns or tissue paper balls, but I like the glossy finish of the balls in that they complement the sleek look of the "I C E cream" letters.
Tips for Serving Ice Cream on a Buffet
Did you know that certain types of ice cream and frozen desserts hold up better on a buffet than others? Try these tips and suggestions for best results and less melting at your ice cream party.
Ice cream or gelato that is blended with melted chocolate or pureed fruit (as opposed to chips or pieces of fruit in the mix), will stay colder for a longer period of time. The fat in the chocolate and the fruit pulp help to bind the ice crystals thus keeping it from melting immediately.
Ice Pops should always be served on ice in a bowl or container with sides, such as the push pops on the party table. Even an ice-cold plate won't keep pops frozen as I found out on the Today Show when my ice pop shot glasses, which were on a cold plate, had begun to melt after 2 minutes and dripped all over the lovely Kathie Lee Gifford during my TV segment.
Freeze edible containers, such as the fortune cookie taco shells and waffle cone cups, to help keep ice cream chilly on the table. And, if compatible with the type and flavor of your ice cream, line the cups with melted chocolate to help keep the ice cream in its container if it does begin to melt.
Should you decide to serve scoops of ice cream on a buffet, pre-form the ice cream scoops and place them in a food-safe metal container that is in a larger bowl of ice on the buffet. You can also purchase attractive insulated tabletop containers specifically made for serving ice cream on a buffet.
Dry ice will freeze ice cream to a more solid state than most home freezers. Consider putting your ice cream on metal trays (I typically use disposable aluminum trays) that are on top of dry ice in the bottom of a Styrofoam cooler. Dry ice may crack a plastic cooler and will most assuredly crack a plastic container; this includes push pop containers. Use tongs and/or wear oven mitts or thick waterproof gloves when handling dry ice and NEVER touch it with bare hands as it will give you freezer burn. Finally, never inhale dry ice fumes, and keep it out of reach from kids and pets. Inquire about safety tips from your dry ice vendor.
Spiked Ice Cream Recipes
I created these recipes specifically for an ice cream party buffet! Try them and let me know what you think. I always look forward to your comments and questions on my blog here at JeanneBenedict.com!