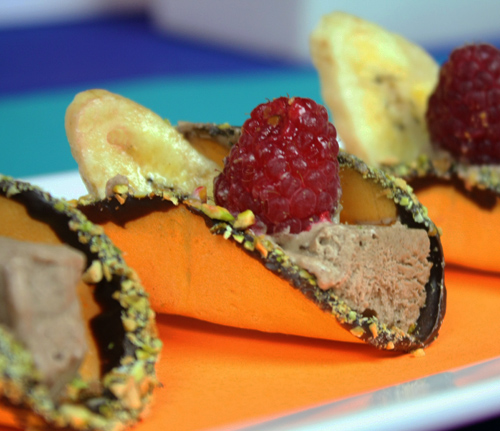 Fortune cookie origami! I was tickled when I came up with the idea of heating a fortune cookie and reshaping it into a taco. It is so simple and makes a dynamite presentation! See these dessert tacos lined up on the party table in my article Adult Ice Cream Social featuring Ice Cream Cellars Wine and a Bright Bold Tabletop.
12 fortune cookies
2 – 4 oz. dark chocolate
1/4 cup chopped pistachio nuts
12 dried banana chips
12 raspberries
Frozen Mexican Chocolate Mousse
4 oz. good quality dark chocolate, chopped
2 egg yolks
2 tablespoons granulated sugar
2 tablespoons Ice Cream Cellars Espresso Ice Cream Wine
1 cup heavy whipping cream, cold
3 egg whites
1 teaspoon ground cinnamon
Heat fortune cookie in the microwave for 20-30 seconds. (It will just begin to open up!) Gently open up the cookie and press down into the center to make a taco shell. Repeat process with all cookies. When cookies harden again, melt dark chocolate, and dip cookie edges in chocolate, then pistachio nuts.
To make mousse, melt dark chocolate in top of a double boiler until smooth. Cool 5 minutes.  Beat egg yolks and sugar in a large mixing bowl until thick and pale yellow.  Add melted chocolate and wine beat until blended. Using clean beaters, whip cream in a small metal bowl until thick and fold into egg mixture.  Using clean beaters, beat egg whites in another small bowl until stiff peaks form. Fold egg whites and cinnamon in yolk mixture. Cover and freeze until firm and ready to use. Spoon mousse into cookie shells and garnish with banana chips and raspberries.
Makes 12 cookie tacos