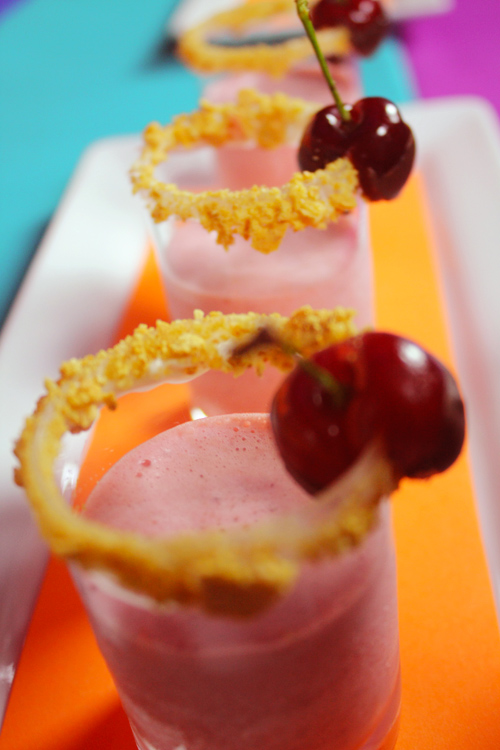 These Spiked Cherry Cheesecake Milkshake Shooters get their kick from a tasty cheesecake flavored wine from Birthday Cake Vineyards. See these shots lined up on the party table in my article Adult Ice Cream Social featuring Ice Cream Cellars Wine and a Bright Bold Tabletop.
1 cup cherries, pitted and cherries for garnish
1/4 cup Birthday Cake Vineyards Cheesecake Wine
2 cups vanilla ice cream
2 – 4 oz. dark chocolate
2 – 4 oz. white chocolate
1/4 cup ground graham crackers
Combine cherries and wine in a food processor and blend until smooth. Add ice cream and process until combined. Pour into a plastic container and keep covered in freezer until ready to serve.
Cut a slit into cherries so they can rest easily on the rim of a shot glass. Melt dark chocolate and dip each cherry in chocolate. Allow to set. Melt white chocolate and dip the rim of each shot glass in the chocolate and then graham cracker crumbs.
When ready to serve, stir milkshake mixture to thaw it if necessary. Pour milkshake into prepared shot glasses and garnish with cherry.
Makes about 2 cups