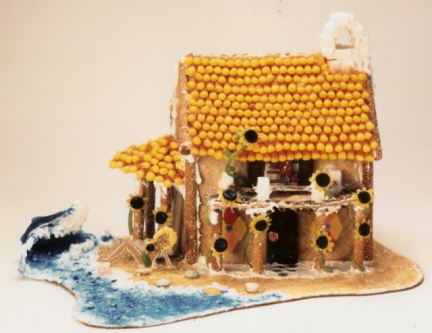 I've always been obsessed with big, beautiful food! It all started with a quest to make the perfect gingerbread house. Year after year I'd try to construct a colossal confectionary masterpiece with efforts thwarted by unforeseen circumstances like my cat jumping on it or a simple baking misstep of too much molasses in the cookie dough that resulted in droopy walls. I finally got it right and made a how-to video documenting the process, which landed my little video on the back of 6,000,000 boxes of C&H Sugar.
Friends in Los Angeles were familiar with my gingerbread obsession and when a TV producer pal heard the news of my sweet success, he booked me on The Suzanne Somers Show.  I created her Malibu home out of cookies with a candy corn roof, rock candy-crested wave, gummy shark, and a sugar cube chimney (pictured above). She loved it!  Pamela Anderson was also on the show and I made her in cookie form as she appeared on Baywatch wearing a red fruit roll-up bathing suit and toting a Good 'n Plenty lifeguard buoy.  It was all so amusing, artistic, and deliciously bizarre!
My passion for making gingerbread houses launched my lifestyle career and my love of food and entertaining has kept my career going for over a decade. In this 4-part blog post series on making gingerbread houses you'll learn everything you need to know about baking, making, and decorating these Christmas cookie and candy centerpieces. Here are a couple more pictures of gingerbread houses to inspire you!
Gingerbread House Designs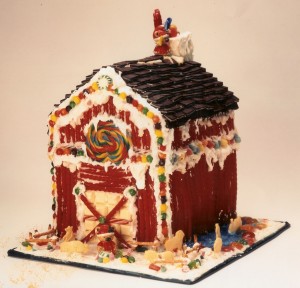 The architectural focus on many a Gingerbread House is the roof. Candy corns make a great southwestern terra cotta style roof and Andes' mints are perfect for shingles as on the Rustic Licorice Barn. I always use a big candy bar for the front door and I usually make a chimney out of sugar cubes.  The greatest ideas will come from your kids. Take them to the candy aisle in your grocery store and ask them what the think would make a good brick or a stone path.  You will be amazed at how they stick a couple of M&M's in the sugar snow as a simple path then, all of a sudden they are creating New Orleans' style licorice lamp posts and reconditioned barn pretzel shutters.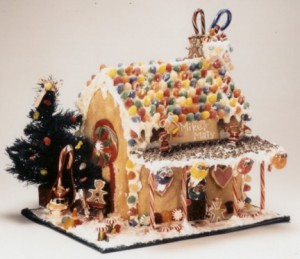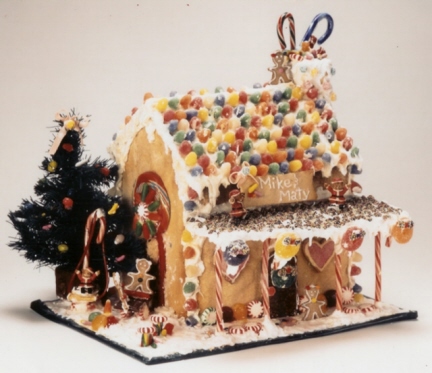 Read on for More Gingerbread House Ideas and Tips: