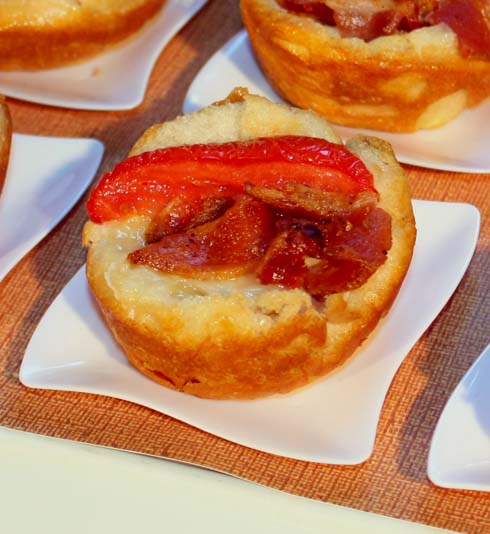 This tasty twist on Hot Browns, traditional open-faced sandwiches served at the Kentucky Derby, is perfect for a Kentucky Derby Party, such as my "Sophisticated Stable" soiree I designed working with 14 Hands Wine!
6 flaky layer refrigerated biscuits
1 tablespoon butter flavor shortening sticks, plus extra for greasing pan
2 cups freshly shredded white cheddar cheese
1/2 cup freshly grated Pecorino Romano cheese
1/2 cup Half and Half
10 slices cooked bacon, chopped
2 cups chopped roast turkey
1 Roma tomato, cut into thin wedges
Preheat oven to 350 degrees F. Place biscuits on an ungreased foil-lined baking sheet. Bake for 13 minutes. Remove from oven; cool slightly.
Generously grease 12 cups of a muffin tin with butter flavor shortening. Pull apart biscuits into top and bottom halves. Press biscuit tops and bottoms down into muffin cups.
Combine cheddar cheese and Pecorino Romano; set aside 1/2 cup of cheese blend. Also, set aside 1/4 cup chopped bacon.
Melt 1 tablespoon shortening into a medium saucepan over medium heat. Stir in Half and Half and remaining 2 cups of cheese blend until melted, about 3 minutes. Remove from heat and stir in turkey and bacon.
Add 2 tablespoons of turkey-bacon-cheese mixture into each biscuit cup and press down to compact. Top each with a tomato wedge, reserved cheese and bacon.
Bake for 10 minutes in a 350 degree oven or until top is golden brown. Remove from oven and cool for 3 minutes. Run a butter knife around each biscuit and remove from pan on to a serving dish.
Makes 12 biscuit cups