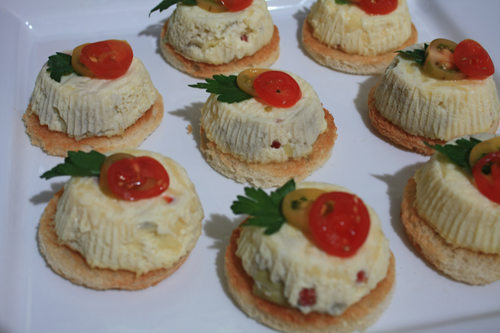 These quiche cakes are basically custards and offer a crustless solution to the classic egg pie. Best of all, you can make these the night before a brunch and reheat when you are ready to serve as per the recipe instructions. I made these for an appearance on the USA Network TV show, "Character Fantasy," and here's the article with some fresh flower decor tips and pretty place setting ideas.
4 large eggs, lightly beaten
1/2 cup whole milk
1/2 cup heavy cream
1 1/2 cups shredded Jack cheese
1/2 cup finely chopped artichoke hearts, canned
1/2 cup finely chopped roasted sweet red pepper, jarred
1/2 teaspoon salt
dash of white pepper
11 slices white bread
3 tablespoons butter
1 large bunch Italian parsley
11 baby red tomatoes
Preheat oven to 325F (165C). Line 8 cups of muffin pans with foil baking cups. Spray cups with nonstick cooking spray. Whisk together eggs, milk, and cream. In a small bowl, combine artichoke and peppers. Fill each prepared foil cup 2/3 full with egg mixture, 1 tablespoon of artichoke and red pepper mixture, and a heaping tablespoon of Jack cheese.
Fill a large baking pan halfway with warm water. Set muffin pan inside water pan and place pans in the oven. Bake 45 minutes or until knife inserted off-center of egg cake comes out clean. Carefully remove pans from oven, as water will be hot. Cool for 10 minutes and serve immediately or cool completely, cover egg cakes in muffin pan with plastic wrap and refrigerate for up to 24 hours. Reheat egg cakes in muffin pan with oven preheated to 350F for about 10 minutes or until just warm when ready to serve.
Cut out rounds from bread using a 3-inch diameter cookie cutter; toast rounds. Butter toasted rounds. Gently remove foil from each egg cake and place upside down in the center of the bread round. Garnish top with parsley leaves and sliced baby red tomatoes.
Makes about 8 quiche cakes