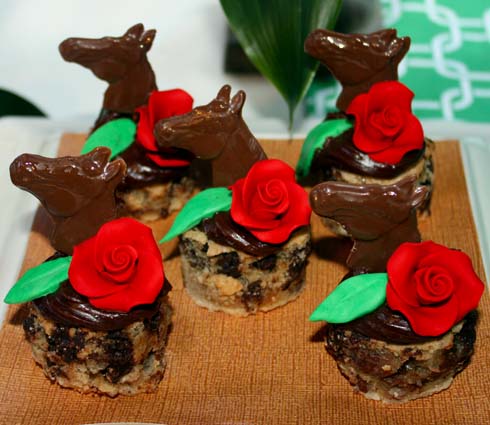 Chocolate, gooey, and a traditional dessert in honor of the Kentucky Derby, this mini version is ideal for a party celebration such as this "Sophisticated Stable" theme I put together for 14 Hands Wine.
1 (9-inch) unbaked pie shell or prepared pie dough
3/4 cup granulated sugar
3/4 cup brown sugar
1 1/2 cups all-purpose flour
2 large eggs, beaten
1 tablespoon bourbon
1/2 cup unsalted butter, melted and cooled
1 cup coarsely chopped pecans
1 cup semi-sweet chocolate chips
For decoration:
Chocolate melting chips
Plastic horse head candy mold (to make @ 1-1/2 inch horse heads)
Wooden toothpicks
Wilton red sugar roses
Green fondant
Chocolate frosting
Preheat oven to 350 degrees F. Line an 8-inch square baking dish with foil. Remove pie shell from tin if necessary. Press pie dough into bottom of dish on top of foil.
Sift together sugar and flour in a medium bowl. Beat in eggs and bourbon. Add cooled butter and mix until combined. Stir in pecans and chocolate chips. Pour batter over pie dough. Bake 30- 40 minutes until knife inserted in center comes out clean. Cool completely. Use a 1-1/2 inch diameter circle cookie cutter to stamp out round mini pies.
For decorations: Place chocolate melting chips in a microwave-safe measuring cup or ramekin. Heat chocolate on "defrost setting" in 20 second increments until chocolate is melted; stir until smooth. (Refer to manufacturers' package for instructions as well.) Spoon chocolate into horse molds and allow to harden. (I usually speed up the process by putting the mold in the freezer for 5 minutes.) Unmold chocolate horses and attach a toothpick to the back of each horse using melted chocolate. Roll out green fondant and use a mini leaf-shaped cutter or a knife to create 1-inch long rose leaves.
Fill a pastry bag fitted with a star tip with chocolate frosting and pipe swirls on top of each pie. Insert toothpick on chocolate horse down into pie. Place a green leaf and red sugar rose in frost of the chocolate horse for a perfectly composed Kentucky Derby treat!
Makes 16 petite pies