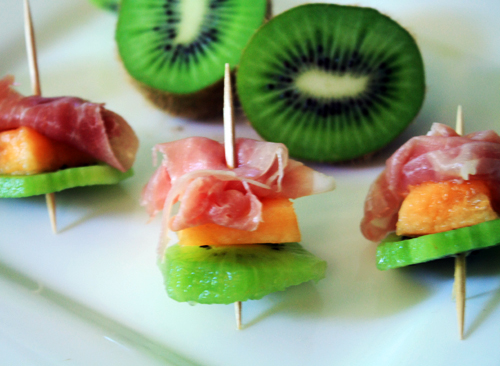 Talk about fabulous color in an appetizer! The gorgeous color combo of soft brown prosciutto, light orange melon, and bright green kiwi absoutely jumps off the plate in this riduculously easy starter.
4 oz. thinly sliced prosciutto
1/2 of a very ripe cantaloupe
5 kiwi fruits
wooden picks
Tear prosciutto into 1-inch-by-4-inch strips. Peel cantaloupe and cut fruit into 1-inch squares that are about 1/4-inch thick. Peel kiwi and slice into 1/4-inch thick rounds. Slide kiwi round, cantaloupe square, and a loosely piled prosciutto strip on to a wooden pick. Serve at room temperature or cold.
Makes about 30 appetizers