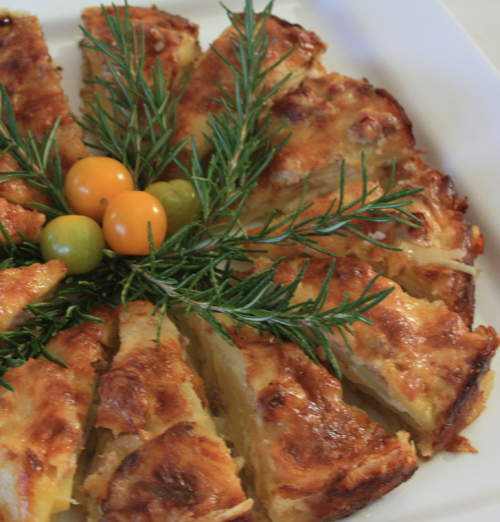 This delicious brunch recipe is a terrific "make-ahead" item. You can prep it the night before and cook it the day of the brunch or make it from start to finish 1 day before the meal and simply reheat it when you are ready to serve. I whipped up this tasty gratin as part of a brunch menu for an appearance on the USA Network TV show, "Character Fantasy" and here's the article with a couple of gorgeous table decor and place setting ideas as well.
1 tablespoon olive oil
1 tablespoon butter
1 lb. Yukon Gold Potatoes, peeled, thinly sliced crosswise
1/2 cup finely chopped leeks
1 clove garlic, minced
1/4 lb. Proscuitto, diced
1 cup shredded Gruyere cheese
1/2 cup heavy cream
1/3 cup sour cream
1 egg
1/2 teaspoon salt
1/4 teaspoon white pepper
Heat oil and butter in a large skillet over medium-high heat.  Add potatoes and cook for 5 minutes, stirring frequently. Add leeks to potatoes and cook, stirring frequently, until potatoes are tender, about 3 – 5 minutes more. If necessary, add another tablespoon of oil to prevent potatoes from sticking to skillet. Remove from heat and set aside.
Preheat oven to 375F (190C).  Cut a wax paper round to fit the bottom of an 8-inch round baking pan. Butter bottom and sides of baking pan. Place wax paper in pan and butter top of wax paper.
Scatter garlic over bottom of prepared pan.  Place 1/2 potato leek mixture in an even layer over bottom of pan.  Scatter 1/2 prosciutto over potatoes.  Scatter 1/2 cheese over top.  Repeat layers with remaining potato leek mixture, prosciutto, and cheese.
Whisk together creams, egg, salt and pepper until creamy.  Pour evenly over top of ingredients in pan.
Bake for 40 – 45 minutes until top is golden brown and bubbly.  Remove from heat and cool for 10 minutes to allow gratin to set. Cut into wedges and serve warm.
Makes about 6 to 8 servings