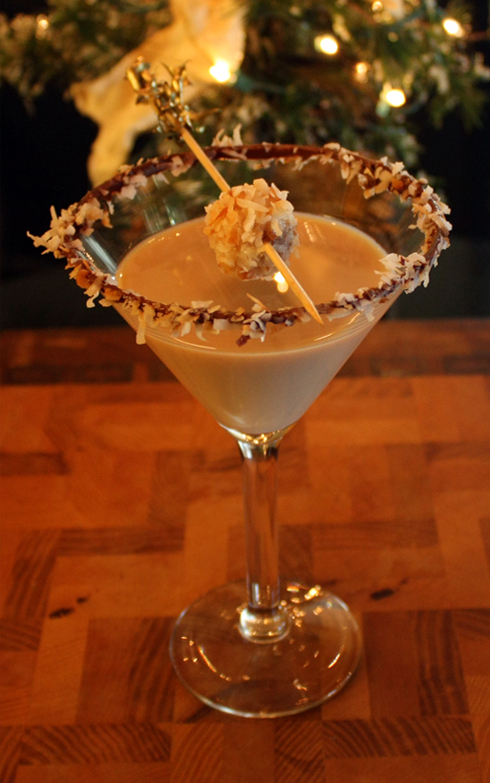 Tippy Cow Chocolate Rum takes you back to the nostalgic flavor of a chocolate malt. Made with fresh Wisconsin dairy cream, right down the street from the cows, its milk bottle packaging is classically kitsch; what's inside the bottle is supremely sophisticated.  I created this cocktail for a holiday appearance on Access Hollywood Live. Check it out here along with some festive ideas for edible Christmas Tree shaped party food: Fruit Tree, Pretzel Ball Tree, Veggie Tree!
3 oz. Chocolate Rum Cream
1 oz. coconut rum
1 cup sweetened, flaked coconut
Store-bought soft caramels
2 tablespoon powdered sugar
1 teaspoon water
Coarse salt
1 milk chocolate candy bar
4-inch bamboo skewers
Spread flaked coconut on a cookie sheet and bake in a 350 degree pre-heated oven until coconut is lightly browned; about 8 minutes. Cool and store in a plastic bag until ready to use.
To make Salty Coconut Caramel Snowballs, roll caramels into small balls. Mix together powdered sugar and water in a small bowl. Place half of toasted coconut on a saucer and sprinkle with a pinch of coarse salt. Roll caramels in powdered sugar mixture and then coconut. Slide snowballs on to bamboo skewers. Cover with plastic until ready to use.
About an hour before serving, place about ¼ cup of broken chocolate bar on a saucer and melt in 10-second increments on defrost setting in microwave. Spread the remaining toasted coconut on another saucer. Dip the rim of a Martini glass in the chocolate and then in the coconut. Arrange prepped glasses on bar and cover loosely with plastic wrap until guests arrive.
Add the Chocolate Rum Cream and coconut rum into a cocktail shaker with ice. Shake and strain into the coconut rimmed Martini glass and serve.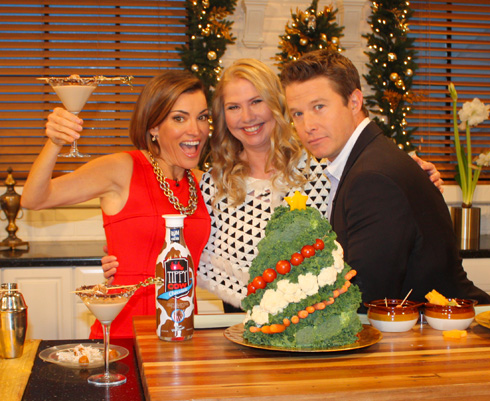 Here's a video clip of this fabulously festive segment 🙂