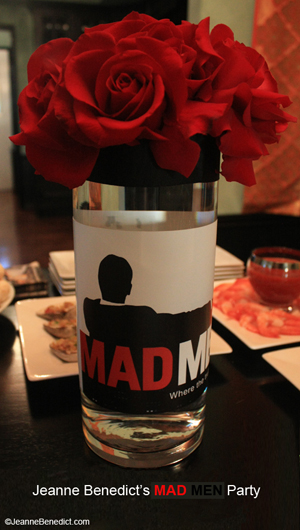 I'm a big fan of the AMC TV Show MAD MEN, but it was my husband who got this premiere party together! Ya' see, my husband and his college buds went to school with John Slattery, who plays Roger Sterling on the show. Apparently, Slattery's nickname in college was "Slats" because his eyes were like slits when he partied.
Given the graphic nature of this TV premiere party, I wanted to incorporate MAD MEN branding into the tabletop. I printed their classic Don Draper image on to photo paper and wrapped it around a cylinder vase topped with red roses for the centerpiece of the food table.
I also picked up personal martini shakers for $1 each at a local liquor store! A little floral foam in the base and a yellow "football mum" later, they were the perfect MAD MEN accents on my coffee table (and cheap – under $5 each).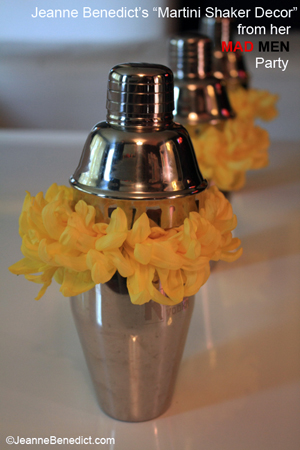 I've used Martini glasses as vases and food serving vessels for other TV viewing parties as they are great space savers on living room tables. Imagine 20 people with food plates crowded around your living room coffee table! Stemware and similar items for displaying food and flowers is the way to go for this kind of party!
As you can see, I dyed my hair red ala Joan Holloway for the party and we went with a 1960′s menu from Clams Casino to Fondue! It was a hoot!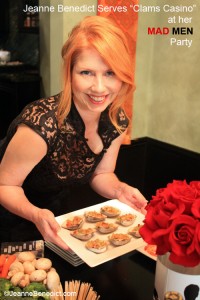 Oh yes friends, there were Martinis a plenty at this party! But the 60′s Menu was a big hit and helped to fill the guts as all gulped!
We really wanted that classic "Sterling-Cooper" touch at the entrance so we purchased a sheet of luan for about $12, aged it with an oak stain that we had in the garage, and then cut out some black cardstock letters using my Cricut machine to replicate the reception area of the ad firm.