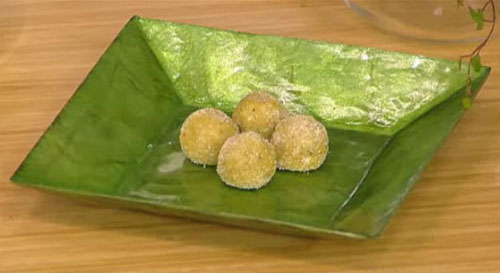 These deliciously soused no-bake cookies are my St. Patrick's Day version of bourbon balls, both of which I did on the TODAY Show. Here's the St. Pat's video clip with guest co-host Olivia Munn sitting in for Kathie Lee Gifford. Munn was hilarious and a tad tipsy from too many balls and brew.
1 cup white chocolate chips
2 cups vanilla wafer cookies
1/2 cup Irish whiskey
2 cups powdered sugar
1 teaspoon corn syrup
1 1/2 cups pistachios
1 cup granulated sugar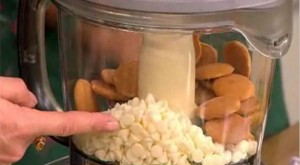 Grind together white chocolate chips and vanilla wafers in a food processor. Add powdered sugar and process until combined. Add the whiskey and corn syrup and process until crumbs form a mass. Add pistachios and pulse until nuts are coarsely chopped and throughout mixture. Optional: Add a drop or two of green food coloring to give the balls a St. Patrick's Day holiday color.
Form 1-inch balls. Place sugar in a shallow bowl and roll balls in sugar. Store in wax paper-lined airtight container in a cool dry place. Let balls sit for a few days before eating for best results.
Makes 48 balls
More St. Patrick's Day Recipes & Ideas from the TODAY Show:
Mashed Potato Martini Bar
St. Patrick's Day Pizza
Irish Whiskey Balls (no-bake cookies)
St. Patrick's Day Cupcakes