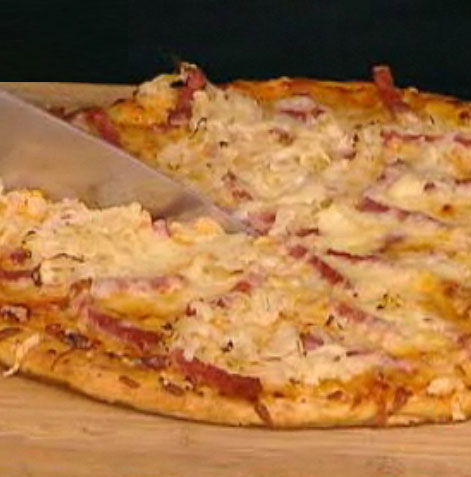 My favorite St. Patrick's Day snack from here on out! This pizza features corned beef and cabbage (ala Reuben Sandwich style) perfect for the holiday. This recipe was a big hit with my husband as well as hosts of the TODAY Show, Hoda Kotb and guest-host for Kathie Lee Olivia Munn, who filled up on slices during my St. Paddy's Day snack segment (video).
3/4 cup sauerkraut
Thin ready-made pizza crust (net wt. 10 oz. / @ 12-inch diameter)
1/4 cup Russian dressing
1 heaping cup coarsely shredded Swiss cheese
3/4 cup thinly sliced cooked corned beef, coarsely chopped
Fry sauerkraut in a small saucepan for about 5 minutes or until very lightly browned. Spread Russian dressing over pizza crust. Sprinkle half the cheese over dressing. Top with corned beef and sauerkraut. Sprinkle remaining cheese over top. Bake at 350 degrees for 8 to 10 minutes until cheese is golden brown.