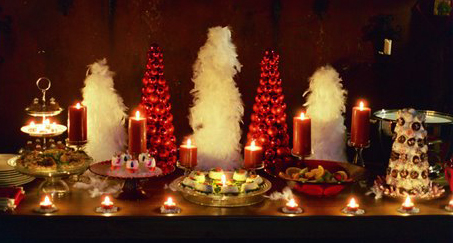 I put together this Christmas Breakfast Buffet for a newspaper spread and wanted to share for your holiday brunch parties or breakfast on Christmas morning.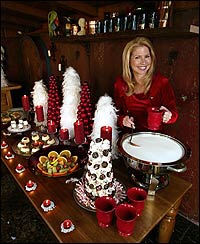 One of my favorite holiday table centerpiece ideas is to wind white boas around Styrofoam cones as snowy white Christmas trees (use greening pins to keep the boas in place). I bought the red holiday ornament ball trees at Target. I'm serving up a delicious Peppermint White Hot Chocolate. Here's the recipe!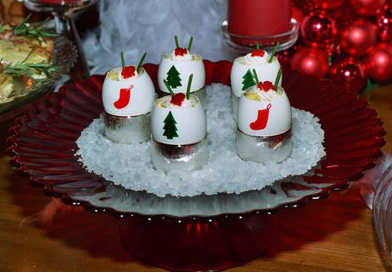 These festive eggshells contain a lobster egg salad. I used food writer pens to draw the stockings and trees on the front of the shell. I used silver napkin rings as a stand for the eggs and rock salt surrounds the rings.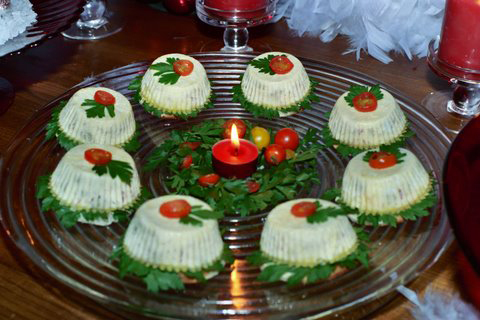 Individual Artichoke Quiche Cakes are ideal for a brunch because you can make the ahead of time, even the night before, and reheat when ready to serve. Here's the recipe! Also pictured in the main buffet table above is another excellent make-ahead recipe for a Prosciutto, Potato, and Gruyere Gratin.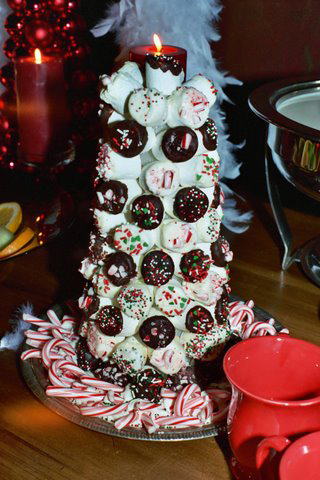 Ya gotta love a holiday food sculpture! This chocolate-dipped marshmallow tree was made by wrapping a Styrofoam cone in foil (I think I used gold decorative foil) and then inserting toothpicks into the marshmallows and the cone to create a sweet Christmas tree!
Some other Christmas party recipes you might enjoy:
Holiday Cocktails from my TODAY Show Appearance!